my 1st marathon!!!! so happy that i made it thru and made good use of Team fatbird pacers.
Followed the two 6-hour pacer shu shus and did it within 6hours. Hahaha. Kinda long and >.<-ing from knee pain... felt like it gonna come out from the socket. OMG!
My friends who have been constant in my life would know that i have been training, running at least 3times a week for this race.... But since late Oct through Nov, i have not been running due to school project and the school field trip to China.*sigh* My body needs to be constantly trained to keep up. I've tried 1 week without running and when i start again, i feel very horrible and weak... :S
Oh well. I feel very happy that i've completed. Better than don't complete right?
Ok. here's my slow result.
5:59 ..... Kinda amusing to me.
Since December is drawing near, I've did up my new year resolution
ALREADY
. One in fact.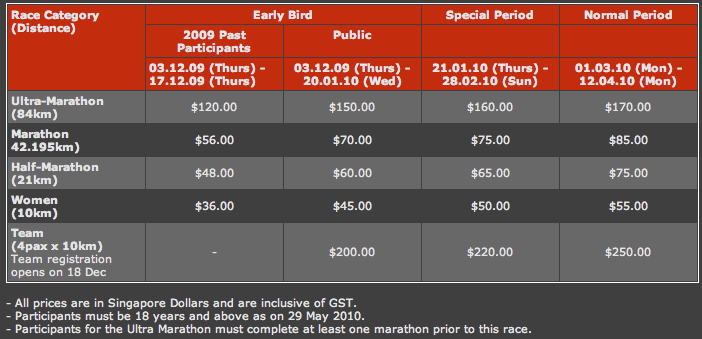 I've been thick skin asking around for sponsors. I couldn't be asking around without making effort right? So i am aiming to cut my timing by 30mins to 1hour. It is a mammoth task for me cuz i have short legs. :D Plus the last 2 months to race day will be project crunch time.

Here's the list of generous supporting buddies:
1. Nelson,
whom i'm proud that he completed 42km by walking
: 20cents
2. Eugene,
thanks for the 1st 21km pacing with Ming Zhi
: 35 buckaroos
3. My beautiful Yi-Ling: 20cents
4. Steven, Bird
shooter(photography)
Man: 5 cents
5. Shazi,
My toilet buddy back in China
: 1 buck
6. Jamie, who always reminds me of candy canes and lollipops
: 5 bucks of cheers
Hopefully the list goes on. $26.55 more to go. :D