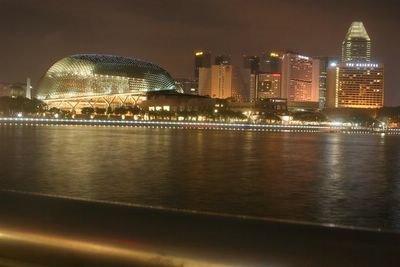 *Courtesy of sotong lolly laney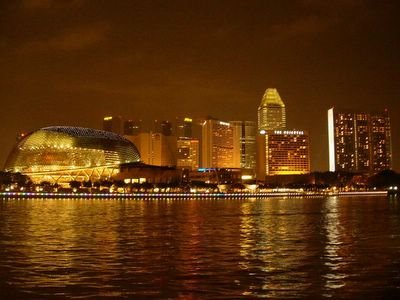 *Night view(taken with my Nikon 4200 by Brian)
*Sigh....I forgot to bring my little silver Nikon(小银银)to load pictures from my big Nikon D50(大灰). [Hmmm.... the way i name my gadgets sound like ah-sia-kiah....]
The official shooting time starts at 8pm, after a round of Burger King with Mr Ant eating more than we thought. Well, he's a growing boy!
We got a special charming guest with us that night, Brian! [Hope tis is e correct spelling]
We had our warm up in front of City Hall. Sotong Laney n I propped up out tripods and start to shoot.
After a few shots, i crossed the road and took a few more of City Hall and start to take Raffles City.
A fillipino talked to me while he waits for the traffic light to turn green. Asking why i'm taking the building for, is it my project or whatsoever... Even asked me what style is it sia. Modern lah.Then wat? Gothic? Renaissance? How i noe? Ask I.M.Pei lah. I'm merely taking photos!
Well, we then move on to Fullerton and Merlion and i took a photo of the 2 tripod carrier men posing like advertisement models. (Photo not available yet, so watch this space!)
After round 2 hours of perspiring and fooling around, we packed up at Merlion. While strolling back to Raffles Place MRT, we saw tis fat cat restin in a corner.3 of us whip out our cameras and start to shoot her/him like using M16(one of my fav writer like to use this term).
So hiao that cat... You see.... (Photo not available yet, so watch this space!)